Registration for our 2 Day Flea Market on October 3 and 4 (Saturday and Sunday during the Perryopolis Pioneer Days ) will start Sunday September 6th. Reserve your table(s) or space(s) as early as possible. You not only save money – you also ensure your table(s) or space(s).

Note: Permanent vendors have to assure us that they are coming (Saturday and/or Sunday). Otherwise we will resell their table(s) or space(s). There will be a "24 hour security guard" on the premises so you can leave your merchandise overnight (at your own risk). If you have any questions feel free to ask us. We are pleased to help you.
On any given Sunday, you can walk through the Perryopolis Flea Market and visit many indoor and outdoor vendors selling anything from apparel to zucchinis. The Perryopolis Flea Market has been serving the public since 1976 at the Perryopolis Auto Auction site on Route 51 S. in Perryopolis, PA. The flea market is open year round, rain or shine, beginning every Sunday at 7:00 a.m. The multi acre site has plenty of parking and is handicapped accessible. Come on down and enjoy the variety of items for sale, the refreshments from the cafeteria, and the many friendly people and staff.
Please check back soon as our new website continues to grow
Rates:
Indoor Table: $15.00 Table size: 8' x 2.5'.
Outdoor Space: $ 20.00 Space size: 15' x 25'.
Directions to Perryopolis Flea Market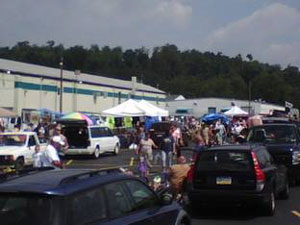 Information:
The Perryopolis Flea Market is open every Sunday, year round. You are invited to browse the Flea Market from 7:00 a.m. until around 2:30 p.m.
Admission:
The admission is $1.00/car or $.50/walk-in customer. Children under 12 years of age are free.
Door prize drawings occur throughout the day for customers as well as vendors.
Contact Us
By mail:
Perryopolis Flea Market
3447 Pittsburgh Road
Perryopolis, PA 15473
By email:
perryopolisfleamarket@hotmail.com
By phone:
724-736-4445 ext. 400
1-800-735-5288 ext. 400