On any given Sunday, you can walk through the Perryopolis Flea Market and visit many indoor and outdoor vendors selling anything from apparel to zucchinis. The Perryopolis Flea Market has been serving the public since 1976 at the Perryopolis Auto Auction site on Route 51 S. in Perryopolis, PA. The flea market is open year round, rain or shine, beginning every Sunday at 7:00 a.m. The multi acre site has plenty of parking and is handicapped accessible. Come on down and enjoy the variety of items for sale, the refreshments from the cafeteria, and the many friendly people and staff.
Please check back soon as our new website continues to grow
Rates:
Indoor Table: $15.00 Table size: 8' x 2.5'. Inside spaces currently unavailable due to COVID-19 restrictions.
Outdoor Space: $ 25.00 Space size: 15' x 25'.
Everyone needs a reservation to sell. To get a reservation, text your name, the merchandise you plan to sell and how many spaces you need to 724-802-0847.
Directions to Perryopolis Flea Market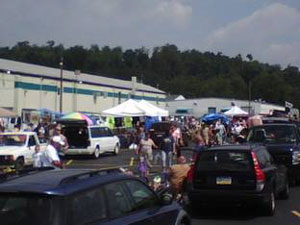 Information:
The Perryopolis Flea Market is open every Sunday, year round. You are invited to browse the Flea Market from 7:00 a.m. until around 2:30 p.m.
Admission:
The admission is $1.00/car or $.50/walk-in customer. Children under 12 years of age are free.
Door prize drawings occur throughout the day for customers as well as vendors.
Contact Us
By mail:
Perryopolis Flea Market
3447 Pittsburgh Road
Perryopolis, PA 15473
By email:
perryopolisfleamarket@hotmail.com
By phone:
724-736-4445 ext. 400
1-800-735-5288 ext. 400